Multicolour Trodat Printy 4912 Self Inking Rubber Stamp 47mm x 18mm
Multicolour Trodat Printy 4912 Self Inking Rubber Stamp 47mm x 18mm
Multicolour Trodat Printy 4912 Self Inking Rubber Stamp 47mm x 18mm
Product Description
Multicolour Trodat Printy 4912 Self Inking Rubber Stamp 47mm x 18mm

How to Order
Either



Fill in the above form, click the "Add to Cart" button
and we will design your stamp for you.

or

Attach your own artwork using the above form.


or

Click the "Design Online" button next to "Add to Cart" Button
to create your stamp online.
There is no need to fill in the details on this page if you Design Online.
Please read below
There are four main things to bear in mind for a perfect multicolour stamp:
Differently coloured letters and symbols must be at least 2.5 mm apart.

The minimum single colour area is 8 mm x 8 mm.

Overlapping colours and colour blends are not possible. (see below):

Some complex designs may not be possible. If you have your own design,


we will check it and let you know if it needs any changes. We will also
make the changes for you for free & email you a new proof.
eg. Borders in different colours around the edge of the stamp or around a
line of text can effect the number of colours that can be used. If you are
unsure just attach your design and again, we will check it for you and let you
know if changes need to be made.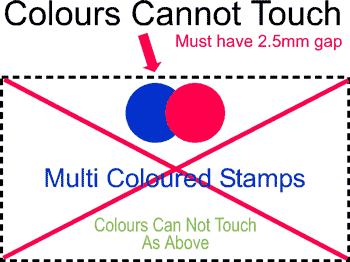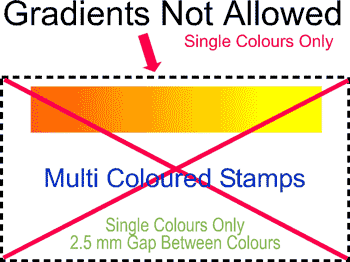 Instructions for Above Form
STEP 1 -

Enter the lines of text you require on the stamp

STEP 2 -

Specify what colours go where on the stamp using the colour chart above


STEP 3 -

If you have a logo or your own design, attach your file using the upload
section in the above form.

STEP 4 -

Tick the "Proof by email" box to receive a proof of the design by email
for your approval.

STEP 5 -

Choose a Font & Alignment choice from the drop down menu




Our standard fonts can be seen in the chart below.



STEP 6 -
Choose your Qty and click "ADD TO CART"




Standard Fonts Alignment Choices




Re-ordering a replacement multicolour ink cartridge in the future is also easy as we
keep your design on file. Simply quote the order number from your original stamp order
when ordering a replacement pad.
---
Warranty Information
90 Day replacement warranty on faulty goods
---
Other Details
Number of Colours:
Up to 15
Note:
Number of possible colours will depend on your design
Note:
The number of lines and characters shown is an estimate only @ 3mm high text. We can increase this by reducing the text size.
---
Find Similar Products by Tag
---
Find Similar Products by Category
---