Help on designing your stamp
To ensure you receive a stamp that fits your requirements, spend a minute to read through the few simple steps below.
Step - 1 Get a blank sheet of paper, a ruler and a pen.
Step - 2 Draw the an outline of the shape on your piece of paper that you want
your stamp to be. eg a rectangle, oval, round or square shape
Step - 3 Write the text you require on your stamp inside the box you have drawn.
If your text will not fit, you will need to start again with a larger outline.
Step - 4 Now measure the outline that you just drew and write down the measurements
Remember, this does not have to be neat. It is simply a way to help you choose the correct size.

eg. You should have a drawing something like this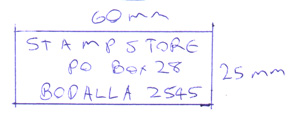 Now that you have the measurements for the correct size stamp, just browse through our stamps and choose a stamp that is close to, or slightly larger than the measurements of your design.
View & print a size chart for
Below are some further explanations for the different styles of stamps. Some work better with certain designs. Read through the infomation below to help complete you choice to find the right stamp. If your unsure, just call us on 1300 782 671 9am to 4pm and we will be pleased to help

If your design has just text, or text with simple logos, or lot of very small fine text, we recommend a standard self inking stamp.
Standard self inkers are our:-


| | | |
| --- | --- | --- |
| CGS Pro | | |
| Colop Series | | |
| Trodat Series | | |

If your design has a lot of bold text or bold logos then a self inking pre inked style stamp is best.
Pre inked self inkers are our:-
| | | |
| --- | --- | --- |
| DF Series | | |
| | | |
Logos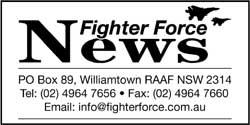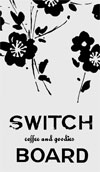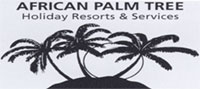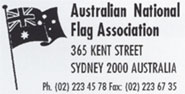 Logos can be added to your stamp at no additional cost. Remember that the artwork needs to be in Black & White only with No grey shading. Your artwork also needs to be clear. If you want your stamp to stamp clear, we need clear artwork. Low resolution, fuzzy artwork creates a low resolution fuzzy stamp. If your artwork looks blurry and fuzzy it is not suitable. We recommend Adobe illustrator .ai or .eps, of Adobe PDF as the best files with text converted to outlines. If you do not have access to these type of files, a hi-res JPG is acceptable, as long as it is a minimum of 300 DPI. If you are designing your own artwork, the minimum line thickness should be 0.2mm, the minimum font size should be 8 point. The sizes shown on our stamps, is the maximum printable area. You should make your design approximately 2mm smaller than this size for the best impression. If you use our LiveArt Designer to design your stamp and want to add your logo, the file type must be a hires JPG, in Black & White with no shading.
If your still unsure on what stamp you need, just call us on 1300 782 671 and we will be happy to help, 9am to 4pm Monday to Friday.